2018-2019 Interview Schedules
The Interview Process
Assuming that you sent in your application in early September, you may begin receiving interview offers within a few weeks. Some programs start interviews as early as the middle of October, but most occur between early November and mid-January.
You will find out about most of your offers during the month of October. Offering an interview is the first step by which programs begin to narrow the pool of applicants, and you may not be invited for an interview at every program to which you apply. Most programs will email you, but some may call. Be sure to check your email and voice messages often, and schedule your interviews as quickly as possible, as interview spots fill up fast (sometimes within minutes of the email). Many programs will offer a few more invitations than they have interviews, and you may be placed on a waiting list if the slots have filled.
Be appreciative of every interview offer you receive as each program usually gives out a total of only 30-45 interviews in a match season. Accept the invitations of programs at which you would be interested in training. Remember, you need to interview at a variety of programs, including some mid- and less- competitive programs to maximize your chances of matching. If you end up receiving more offers than you plan on accepting, you can always cancel interviews. Most neurosurgery applicants plan on interviewing at 10-15 programs. It is considered good form to cancel interviews at least three weeks in advance – programs will be much more understanding if you cancel with enough time for them to fill your interview slot, and your fellow applicants will be grateful that they have three weeks to make travel arrangements.
Scheduling your interviews will turn out to be more difficult than you expect. Many programs only offer a few dates. Fridays and Saturdays end up being popular interview days, and, as you can imagine, there are only a limited number of these days during the interview season. You may not be able to interview at all the programs you would like to. This makes scheduling interviews early important. Most programs will make an effort to help you schedule your date such that it fits your travel schedule.
Depending on where you are located, and where you have applied, interviews can be a significant financial burden, something that is recognized by organized neurosurgery with strategies in process to mitigate this. Consider sharing resources with those you meet on the trail, ask about hosting options by various AANS Medical Student Chapters and know that loans are available.
The interview process gives you a chance to see the institutions at which you may wish to train and allows these institutions to assess you and your qualifications. Because neurosurgical residency is a long process and institutions vary in their character and opportunities, it is important that you seriously assess each institution and your ability to fit in. You can also tell a great deal about a program by the emphasis it places on various questions. Even if you decide a program is not right for you, having seen the program will give you important information that you can use to assess other programs.
To succeed at an interview, you must remember that it is a two-way process. The interview is your best chance to talk about yourself and become an individual in the application process. You should be honest in answering questions and should not be intimidated to ask questions that you want answered. Be direct and straightforward in your answers, but also, be succinct. You are likely to be asked why you chose to go into neurosurgery and what you would like to accomplish. Although no one expects an applicant to have made a complete decision as to their ultimate goals, some consideration should have been given by the applicant. It is best not to try and guess what your interviewers desired answer may be – this process is about finding a good fit for the next seven years, so be honest with yourself and with the program.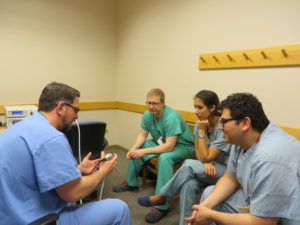 You should arrive well in advance of your interview, leaving yourself plenty of time to get where you need to be. Many programs have a dinner the night before, which will require making arrangements for accommodations for that night and perhaps the evening after the interview. It is unwise to assume that transportation is readily available, schedules are precise or that a room will always be available in a given town – research and plan ahead.
Try to get sufficient sleep the night before an interview. A refreshed mind can be your greatest asset. Remember that your appearance counts, will be the first thing appreciated about you and will leave a lasting impression. Make certain you have considered your attire before the interview. Many interview days have considerable amounts of walking associated with them. Wear business shoes that allow you to walk distances in comfort. Remember that there are no insignificant individuals at any institution. Many applicants have made serious errors by being curt or demanding of individuals, such as secretaries or assistants. Neurosurgery requires a team approach, and you should approach the interview with the goal of showing everyone that you are a team player. This means dealing with everyone respectfully.
If you have the opportunity, review your notes on a given institution, or visit their website before your interview. It often helps to have some insight about an institution before interviewing there. Keep in mind that in most instances, the individuals with whom you are interviewing will know your application. Be sure to review your entire application the night before the interview and be able to speak intelligently to all aspects, including volunteer activities, research projects and your personal statement. You may want to bring along copies of papers that you have written to provide additional information, but it is not necessary to provide these unsolicited to each interviewer.
The interview day can often be stressful. Here is what to expect:
Typically eight to 16 interviewees on a given day (this may vary widely)
An introduction from the program director and/or chair of the department outlining the program and faculty
Anywhere from five to 10 interviews lasting 10-20 minutes with one or two faculty members at a time; You may or may not have short breaks between interviews. Some places will have you just rotate from office to office, doing eight interviews back-to-back.
Time with residents, either between interviews or before/after interviews – take this opportunity to ask questions
A tour of the hospital(s) – another good time to get information from residents
Lunch either at the hospital or at a nearby restaurant
Some programs have a dinner the night before the interview day; very few have anything the night after the interview. This is an excellent time to talk to residents, and get a clear picture of the character and structure of the program. The majority of the time, the residents do not have a large role in the admissions process, and you can ask anything you would like. However, some programs do include some of their residents in the process – they will usually let you know when this is true. If you say or do something really unprofessional, word will likely get around. Avoid drinking excess alcohol – programs want you to have fun in the process, but again, neurosurgery is a serious profession, and you should always put yourself in a professional light.
The interviews rarely consist of difficult questions – why you chose neurosurgery, who you are, what you like to do, what you want to do with your life, what sets you apart, etc. You may also be asked to describe a case and will likely be asked about your research, of which you should have excellent working knowledge. You may be asked about what you are looking for in a program. The interviewers will be trying to get a sense of your personality, how articulate you are and, as many will tell you, making sure you are not a sociopath.
Every interview will include time for you to ask questions. Some interviews will, in fact, consist only of your questions. These can be hard especially if you have already asked the same three or four questions to several other interviewers that day. Therefore, come prepared with plenty of questions. Remember, you are trying to find a program that best fits your learning style and a place you will enjoy for the next seven years. Be respectfully inquisitive without being presumptuous.
You may be asked (quite illegally) about your marital status or your intent to have children. The best advice is to smile, stay composed and describe your neurosurgery goals and planned dedication to your training, which should be the case with, or without, childbearing/rearing. Family and neurosurgery are not contradictory.
Speak confidently and articulately, and try not to sound like you have answered every question 10 times already. There is no need to get anxious. You are interviewing the program just as much as they are interviewing you to determine whether there is a good match. The most difficult thing is not to tire as the day goes on, since you may be moving from room to room answering the same exact questions for several hours.
Below is a sample of potential interview questions:
Questions for Interviewers
What are the greatest strengths of your program? (weaknesses will often be volunteered by the interviewer when you ask about the strengths)
What OR experiences are provided and at what PGY year?
Clinic experience?
Research experience – how does your project get chosen?
Where does the research funding come from?
What major changes do you see in the foreseeable future?
What changes have occurred recently?
Any people retiring (e.g. department chair) or likely to leave (e.g. junior faculty)?
Where do most graduates end up (academic vs. private practice)?
Cadaver lab for the residents?
Case mix?
Enfolded fellowships?
Is there a formal resident education syllabus?
Do residents present at regional or national meetings?
Do residents have a book fund or travel stipends?
Questions for Residents
Why did you decide to come to this program?
Strengths of the program? Weaknesses of the program?
Faculty contact?
Floor responsibilities?
Typical daily census?
Do advanced registered nurse practioners (ARNPs)/physician assistants (PAs) help with patient care duties?
OR experience – How much of the case do you do; how are cases distributed?
Chief year – responsibilities/OR privileges?
What is the program's general emphasis on research? Requirements and opportunities?
Clinic time, organization and demographics?
Number of hospitals, distribution of residents, travel time between hospitals?
Academic vs. private emphasis?
What have the most recent graduates done?
Hours, call schedule, back up vs. first call?
Effect of 80-hour work week?
Time on general surgery – how are they treated; how hard/interesting is it; are the rotations tailored to what the residents want; quality of the training?
Vacation?
Social life – do the residents go out much; are they mostly married/single?
Housing – where do residents live?
What's the scoop on the other programs in town?